最新資訊 - 影音
發佈日期:2010-10-04 02:05:04
在Facebook 專頁按「讚好」,免費影音資訊自動送上
Sonic Precision & Sophisticated Styling
Martin logan - Motion Series
來自美國的 MartinLogan 推出一系列全新的鋁帶喇叭 – Motion。採用以 MotionTM 專利的高音單元,配合精密 VojtkoTM 分音加特製的空氣芯和低 DCR 鋼叠片電感器,及纖維薄膜電容和低電解電容,能將高低音發揮得更淋漓盡致。Motion 系列有書架式、座地式及中置喇叭,能配合不同用途。流線形的箱體,突顯個人風格,更易於配襯不同的家居設計。甜美的音樂和優雅的線條,Motion 滿足您的要求。
Sonic Precision & Sophisticated Styling
Inspired by MartinLogan's ultra-high-end electrostatic loudspeakers, the Motion® Series was created to provide stunning sound for your ultimate-performance home theater or stereo. MartinLogan's dedicated in-house engineers carefully crafted the Motion Series to create an extremely affordable and compact product line that seamlessly blends our exquisite Folded Motion™ transducers with powerful, compact bass technology. The result is a smooth, refined sound with stunning dynamic range and jaw-dropping clarity.
Meet The Family
Motion Series speakers are available in floor standing tower and ultra-compact center bookshelf models. Speakers can be mixed-and-matched (along with any of MartinLogan's high-performance subwoofers) to create a stunning solution for any application—from a spectacular high-performance 2-channel music system to an exhilarating multi-channel home theater system. Voice-matched with MartinLogan electrostatic speakers, Motion Series Speakers also offer a perfect solution for compact rear-channel applications in traditional electrostatic based home theater systems.
Curve Appeal
Complementing Motion's sonic accuracy is elegant yet understated styling. Flawless high-gloss, piano black finishes and subtle curves, along with our signature perforated grille, give Motion Series speakers an elegant and timeless look. Tower models feature a real-wood veneer finish and a stylish aesthetic certain to blend with any decor.
The curves also serve a purpose; they allow Motion compact bookshelves to mount at two different angles with the included wall bracket. This means you can point sound directly toward the desired listening area for high or low wall mounting applications. Beauty and brains!
Hook-ups, Simplified.
Convenient push-style speaker terminals and curved inserts help guide speaker wire effortlessly into place. The rubber end caps on the terminal are also removable for the use of banana plugs instead of bare wire. So simple, you'll actually enjoy hooking up these speakers.
Engineering Genius
What makes the Motion Series sound so amazing? MartinLogan's dedicated in-house engineering team started by utilizing and refining the most advanced, compact technologies and combining them with innovative engineering. The result is an emotionally engaging sound that rivals (and most times trounces) traditional loudspeakers of similar size and price. Although our engineers won't reveal exactly how they make the sausage, here are a few technologies that help give MartinLogan Motion Series such a unique sound: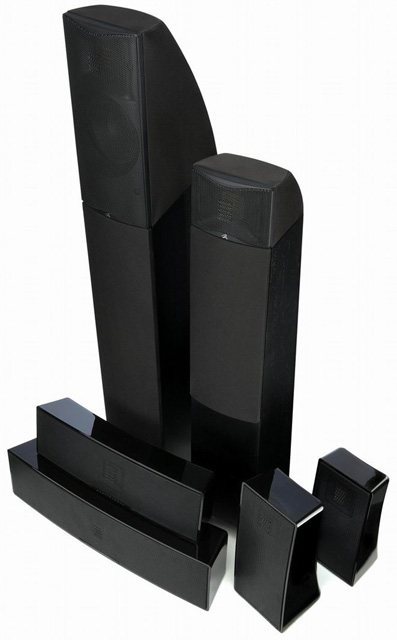 Motion Series
Features:
Motion 12 - Floorstand
Frequency Response 40–25,000 Hz ± 3dB
Sensitivity 92 dB/2.83 volts/meter
Impedance Compatible with 8 Ohms
Crossover Frequency 300, 3000 Hz
High Frequency Driver 1 x 1.4" (2.6 x 3.6cm) Folded
Motion Transducer with 5.25 x 1.75" (13.3 x 4.4cm) diaphragm.
Mid Frequency Driver 5.25" (13.3cm) paper cone. Dipole.
Low Frequency Drivers Two 6.5" (16.5cm) paper cone. Ported.
Power Handling 150 watts
Weight 36 lbs. (16.3kg)
Size (HxWxD) 42.8 x 7 x 14.1 (108.7 x 17.8 x 35.8cm)
Motion 10 - Floorstand
Frequency Response 65–25,000 Hz ± 3dB
Sensitivity 90 dB/2.83 volts/meter
Impedance Compatible with 8 Ohms
Crossover Frequency 3000 Hz
High Frequency Driver 1 x 1.4" (2.6 x 3.6cm) Folded
Motion Transducer with 5.25 x 1.75" (13.3 x 4.4cm) diaphragm.
Mid/Low Frequency Drivers Two 5.25" (16.5cm) paper cone. Ported.
Power Handling 100 watts
Weight 22 lbs. (10kg)
Size (HxWxD) 35.1 x 9.9 x 25.4" (89.1 x 25.1 x 25.4cm)
Motion 8 - Center
Frequency Response 70–25,000 Hz ± 3dB
Sensitivity 89 dB/2.83 volts/meter
Impedance Compatible with 8 Ohms
Crossover Frequency 3000 Hz
High Frequency Driver 1 x 1.4" (2.6 x 3.6cm) Folded
Motion Transducer with 5.25 x 1.75" (13.3 x 4.4cm) diaphragm.
Mid/Low Frequency Drivers Two 4" (10.2cm) paper cone.
Power Handling 90 watts
Weight 8.5 lbs. (3.85kg)
Size (HxWxD) 5.6 x 22.25 x 5.25" (14.2 x 56.5 x 13.3cm)
Motion 6 - Center
Frequency Response 120–25,000 Hz ± 3dB
Sensitivity 89 dB/2.83 volts/meter
Impedance Compatible with 8 Ohms
Crossover Frequency 3300 Hz
High Frequency Driver 1 x 1.4" (2.6 x 3.6cm) Folded
Motion Transducer with 5.25 x 1.75" (13.3 x 4.4cm) diaphragm.
Mid/Low Frequency Drivers Two 3.5" (8.9cm) poly cone.
Power Handling 65 watts
Weight 6 lbs. (2.72kg)
Size (HxWxD) 5.25 x 17.5 x 3.75" (13.3 x 44.5 x 9.5cm)
Motion 4
Motion 4 – Table stand / Rear
Frequency Response 70–25,000 Hz ± 3dB
Sensitivity 90 dB/2.83 volts/meter
Impedance Compatible with 8 Ohms
Crossover Frequency 2900 Hz
High Frequency Driver 1 x 1.4" (2.6 x 3.6cm) Folded Motion
Transducer with 5.25 x 1.75" (13.3 x 4.4cm) diaphragm.
Mid/Low Frequency Drivers 4" (10.2cm) paper cone. Ported.
Power Handling 75 watts
Weight 6 lbs. (2.72kg)
Size (HxWxD) 12.6 x 5.6 x 5.25" (32 x 14.2 x 13.3cm)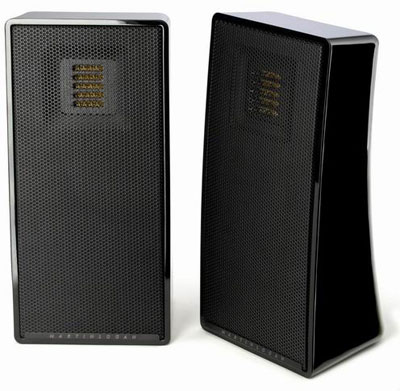 Motion 2
Motion 2 – Table / Rear
Frequency Response 110–25,000 Hz ± 3dB
Sensitivity 86 dB/2.83 volts/meter
Impedance Compatible with 8 Ohms
Crossover Frequency 2800 Hz
High Frequency Driver 1 x 1.4" (2.6 x 3.6cm) Folded Motion
Transducer with 5.25 x 1.75" (13.3 x 4.4cm) diaphragm.
Mid/Low Frequency Drivers 3.5" (8.9cm) poly cone.
Power Handling 50 watts
Weight 4 lbs. (1.81kg)
Size (HxWxD) 11.3 x 5.3 x 4.5" (28.6 x 13.3 x 11.4cm)
Martin Logan 港, 澳 總代理
雅典音響器材有限公司
電話: 25247687 (HK) / 020-3562 6826 (CN)
Last modified: 2010-10-04 02:13:12
FiiO 推出全新 XLR 4pin 轉 4.4mm 平衡插座 LX-4.4M

2023-09-24

Bowers & Wilkins 宣布推出全新一代 Px7 S2e 耳罩式降噪耳機

2023-09-23

支援 DTS Virtual : X 及 Dolby Audio,Amazon 宣布推出全新 Fire TV Soundbar

2023-09-22

Creative 推出全新 Stage SE mini 小巧桌面喇叭系統

2023-09-21

B.audio 發布全新多功能串流合併式放大器 Alpha One

2023-09-19

KOJO Technology Crystal E-G 品牌史上最大表面積地盒

2023-09-19

Shure 全新 AONIC 50 Gen 2 主動降噪頭戴式耳機

2023-09-19

將軍澳 PopWalk 天晉滙呈獻「PopWalk 動漫一番街」

2023-09-19

Fostex 推出全新 TH Premium Series TH616 限量版耳機

2023-09-18