最新資訊 - 影音
發佈日期:2015-11-10 23:14:37
在Facebook 專頁按「讚好」,免費影音資訊自動送上
LAURENCE JUBER "BEATLES, WINGS AND SIX STRING GUITARS"
SUNDAY, DECEMBER 6, 2015, 4.00 PM
SHEUNG WAN CIVIC CENTRE THEATRE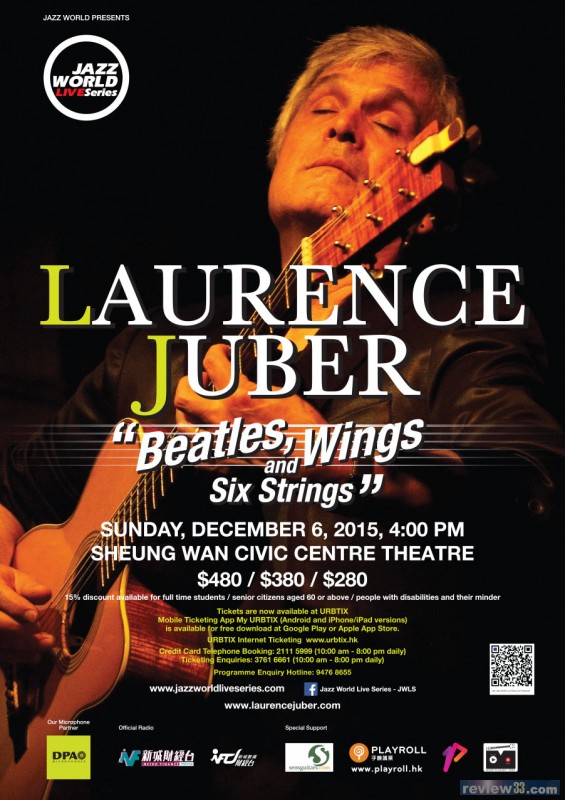 For Immediate Release through December 6, 2015
HONG KONG : JAZZ WORLDis delighted to announce two time Grammy Award winner, guitarist extraordinaire and maestro LAURENCE JUBER for a performance at the Sheung Wan Civic Centre Theatre on Sunday, December 6, 2015. Tickets are $280, $380 and $480 and are available from URBTIXNOW. Please note, this will be an afternoon show and will start at 4.00 pm.
Laurence Juber has been playing guitar for nearly 40 years, and was the lead guitarist in Paul McCartney's band, Wings between 1978 and 1981, winning a "Best Rock Instrumental" Grammy for the song, "Rockestra". However, Laurence, best known to his fans as "L J", has since established himself as an artist in his own right, and has released several acoustic guitar instrumental CD's, all featuring his unique fingerstyle technique and extensive use of alternate tunings.
L J tours extensively in support of his 2 dozen solo CDs with concert and clinic dates in the United States, Europe and Asia. He also enjoys continued success as a studio guitarist. He has worked on scores of television shows, (including Home Improvement, Boy Meets World, and 7th Heaven), films (the 'Academy Award' - winning Good Will Hunting, Dirty Dancing and Pocahontas), and record albums (including Ringo Starr, Alan Parsons, Paul Williams, Al Stewart, Belinda Carlisle, The Monkees, and Lou Rawls).
Juber with his wife, Hope, have composed the score to 'Gilligan's Island, the Musical', and produced to rave reviews in Los Angeles. His 'Magellan Suite' for Guitar and String Quartet is a musical highlight of the 'Disney Sea' theme park in Tokyo, Japan.
In 2014, he released the book, Guitar With Wings: A Photographic Memoir, in which he looks back on his days working with an ex-Beatles in one of the '70s biggest bands.
Be sure to catch L J, one of the world's best fingerstyle guitarists, play The Beatles, Wings and many other tunes, in the intimate surroundings of the Sheung Wan Civic Centre Theatre on December 6. This will be a Sunday afternoon show beginning 4.00 pm.
Video of L J playing "While My Guitar Gently Weeps
https://www.youtube.com/watch?v=xCSQn_Xbp-g
Video of L J Playing together with Tommy Emmanuel and Richie Sambora
https://www.youtube.com/watch?v=uIIKP9rHkPw
Video of L J playing "Little Wing"
https://www.youtube.com/watch?v=2-hrimy0t-0
Tickets go on sale NOW from www.urbtix.hk
OR http://www.playroll.hk/en/hk/event/6257343465521152
OR https://pelago.events/event/#!/728/728-dc84cd1c8a14c93688d5e858f8fa5c526abb762c/
or call Jazz World 9476 8655
Facebook : https://www.facebook.com/events/957361340997646/
Last modified: 2015-11-10 23:14:37
支援 DTS Virtual : X 及 Dolby Audio,Amazon 宣布推出全新 Fire TV Soundbar

2023-09-22

Creative 推出全新 Stage SE mini 小巧桌面喇叭系統

2023-09-21

B.audio 發布全新多功能串流合併式放大器 Alpha One

2023-09-19

KOJO Technology Crystal E-G 品牌史上最大表面積地盒

2023-09-19

Shure 全新 AONIC 50 Gen 2 主動降噪頭戴式耳機

2023-09-19

將軍澳 PopWalk 天晉滙呈獻「PopWalk 動漫一番街」

2023-09-19

Fostex 推出全新 TH Premium Series TH616 限量版耳機

2023-09-18

Astell&Kern 宣布推出全新限量版 SE300 Titan

2023-09-15

Dynaudio 宣布為 Contour i 系列新增 Nordic Silver(北歐銀)外飾

2023-09-13