最新資訊 - 影音
發佈日期:2016-02-19 03:58:40
在Facebook 專頁按「讚好」,免費影音資訊自動送上
Michael Landau Trio on Tuesday, March 8, 2016 at Youth Square Y-Theatre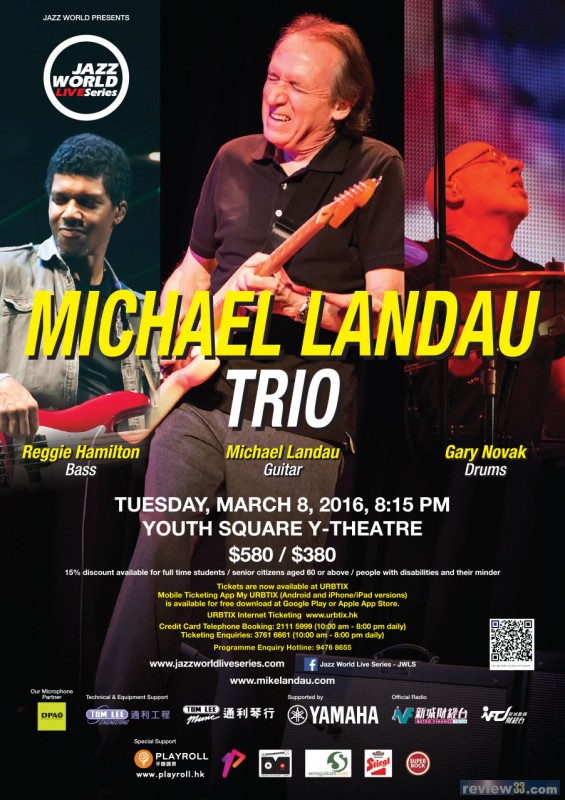 For Immediate Release through March 8, 2016
HONG KONG: Jazz World Live Series is delighted to presentMichael Landau Trio on Tuesday, March 8, 2016 at Youth Square Y-Theatre. Tickets are $380 and $580 and available through URBTIX now. The concert will begin at 8.15 pm.
Musician and composer Michael Landau was born and raised in Los Angeles.
He grew up with the music of The Beatles, Jimi Hendrix, Led Zeppelin, Cream and The Band.
In his early teens, Michael quickly became very interested in jazz and electric jazz music. Weather Report, Pat Martino and Jaco Pastorius were some of his early obsessions. From this diverse blend of influence, his sound and path began to take shape. His current group focuses on the improvisation and spontaneity of live shows.
Michael starting playing the guitar at age 11. By 16, he began playing the L.A. club scene with an R&B band and shortly after, he toured the West Coast with Robben Ford which
included band members Jimmy Haslip and Russell Ferrante.
At 19, he joined Boz Scaggs for a world tour and by 20, he started to do session work on the recommendation of long time friend, Steve Lukather. Some session highlights would include Pink Floyd, Miles Davis, Joni Mitchell, BB King, James Taylor, Ray Charles and Rod Stewart.
In 1993, he won the Reader's Poll for Best Studio Guitarist in Guitar Player Magazine.
Over the last two decades, Michael has found time between sessions to release a stream of solo recordings. His latest, Organic Instrumentals, combines the guitarist's distinctive brand of Strat strangling with the modern organ sounds of Larry Goldings to produce ten tunes ranging from the Howlin' Wolf style blues "Wooly Mammoth" to the Bill Frisell-like introspection of "The Family Tree." These disparate feels are knit together by Landau's personal harmonic sense and intensely focused attention on the details of tone.
Visitwww.mikelandau.com
for more information on Michael Landau and his music.
Video of Michael Landau Trio @ The Baked Potato
https://www.youtube.com/watch?v=0FBLf-THxgU
Jazz World wishes to thank dpa microphones, Tom Lee Music, Playroll, Metro Radio and Music In Music, without whom, this concert would not be possible.
Tickets go on sale NOW via URBTIX
For programme enquiries, call 9476 8655; for ticketing enquiries, call 3761 6661.
Credit Card Telephone Booking, call 2111 5999.
or call Jazz World 9476 8655
Facebook : https://www.facebook.com/JAZZWORLDJWLS/?fref=ts
For More Information:
Clarence Chang, Jazz World (852) 94768655 or jazzworldcds@gmail.com
Last modified: 2016-02-19 03:58:40
---
發表您對 < Michael Landau Trio on Tuesday, March 8, 2016 at Youth Square Y-Theatre > 的意見
Creative 推出全新小型 Soundbar 系統 Stage Air V2

2022-06-23

全新 LG UltraGear™ 電競顯示屏皇者 32GQ950-B 顯赫登場

2022-06-23

Sony 推出全新 X 系列無線藍牙喇叭 SRS-XE300 / XE200

2022-06-22

HONOR X7 國際版行貨登陸香港

2022-06-22