最新資訊 - 影音
發佈日期:2016-05-11 13:20:22
在Facebook 專頁按「讚好」,免費影音資訊自動送上
Evening With Pat Metheny with Antonio Sanchez, Linda Oh & Gwilym Simcock
JUNE 1 & 2, 2016
AC HALL, HK BAPTIST UNIVERSITY,
KOWLOON TONG
For Immediate Release through June 2, 2015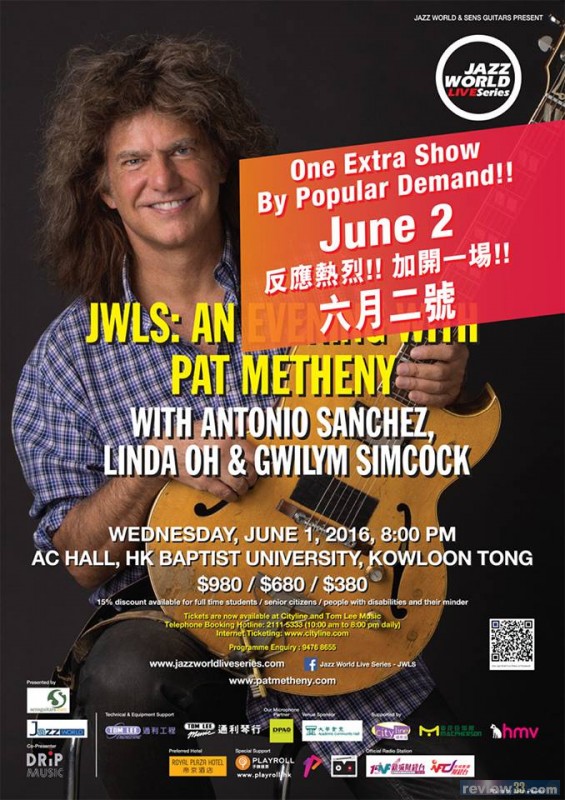 HONG KONG: Jazz World and Sens Guitars are thrilled to presentAn Evening With Pat Metheny on Wednesday June 1 & 2, 2016 at AC Hall, Hong Kong Baptist University. Tickets are @ $380, $680 and $980 and available through Cityline beginning March 7, 2016.
20 time Grammy Award winning guitarist Pat Metheny has announced an extended run of dates around the world for 2016 under the auspices of "An Evening with Pat Metheny". Recently inducted into the Downbeat Hall of Fame as its youngest member, Metheny will present a range of music from throughout his career.
Joining Pat this year once again will be his long time drummer Antonio Sanchez who has also recently won a Grammy with his brilliant original score for "Birdman".
Malaysian/Australian bassist Linda Oh has been extremely active on the New York scene for the past few years, playing with many of the major musicians in the jazz community, including Joe Lovano, Kenny Barron & John Scofield.
Rounding out the ensemble is British pianist Gwilym Simcock, one of the most exciting new pianists to emerge from the UK in many years.
As to what the performances will be like as the year unfolds Metheny says, "It could really be anything and everything. I have already written a bunch of new music inspired just by the thought of this presentation, but I could also imagine playing only old music one night, or even playing entire albums. I like the idea of keeping it open and letting it become whatever it winds up being over the course of a tour. At this stage, I have so much music and it all is kind of one big thing for me without borders or distinctions between this period or that period. With Antonio, Linda and Gwilym, I think we could and will do a wide range of things from throughout all of it - and maybe uncover what the next period has in store as well".
Pat Metheny last played in Hong Kong in 2002. This is his much anticipated return, and definitely the most important jazz event of the year!
For programme enquiries, call 94768655; for ticketing enquiries and reservations,
please call 2111 5333. Internet bookings are available at
http://venue.cityline.com/utsvInternet/internet/action/event.do?actionFwd=eventDetail&event=17056
Jazz World wishes to thank Sens Guitars, DPA microphones, Royal Plaza Hotel, Tom Lee Music, Tom Lee Engineering, AC Hall, Playroll, Cityline, Pelago, Metro Radio and Music In Music, without whom, this concert would not be possible.
Video of Pat Metheny Group performing Have You Heard
https://www.youtube.com/watch?v=ApI-zA6suXE
Video of Pat Metheny performing This Belongs To You (Unity Sessions)
https://www.youtube.com/watch?v=KXIYa2cCc8M
Tickets go on sale March 7, 2016 via CITYLINE
http://venue.cityline.com/utsvInternet/internet/action/event.do?actionFwd=eventDetail&event=17056
or call Jazz World 9476 8655
https://www.facebook.com/JAZZWORLDJWLS/?fref=ts
For More Information:
Clarence Chang, Jazz World (852) 9476 8655 or jazzworldcds@gmail.com
Adeline Lee, Freez Ltd (852) 9108 2820 or adeline@freez.com.hk
Last modified: 2016-05-11 13:20:22
---
發表您對 < An Evening With Pat Metheny with Antonio Sanchez, Linda Oh & Gwilym Simcock > 的意見
高輸出掛帥,Astell & Kern 推出全新 KANN MAX 超弩級 DAP

2022-05-15

債務約 31 億日圓,Onkyo Home Entertainment 提出破產訴訟請求

2022-05-13

Sonos 推出最新入門級小型 Soundbar 讓您盡享絕美音效

2022-05-13

Tesla 港島東南灣廣場第 50 個 V3 超級充電站正式啟用

2022-05-13